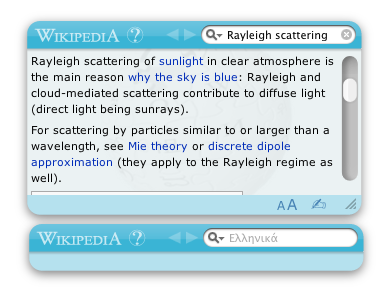 Features:
Compatible with any language wikipedia. Click the 'i' button in the lower left corner to access settings, then enter the 2 letter (or more) letter code on the back. Defaults to English (en).
External links open in your preferred browser.
Click the 'wikipedia' button to the left of the search field to open the current article or search term in Safari.
The '?' button to the left of the search field fetches a random article.
Back and forward buttons with page caching.
Edit pages by clicking the hand icon in the lower right.
Installation
Apple's Mac OS X 10.5 or later is required.
After downloading, double click the 'Wikipedia.zip' file to unzip. Then double click the resulting 'Wikipedia.wdgt' file to open in Dashboard.
Current Version
1.0.0
(February 13, 2013
11:45am)
Moved download site from www.whatsinthehouse.com/widgets to wikiwidget.github.com
Fixed problem with displaying articles.
More consistent caching location
(for previous changes, see the change log)
Credits
Maintained by Spencer Bliven (@sbliven) [spencer@bliven.us]
Created by Sean Billig (@sbillig)